Private Speech-Language Pathology Services
In-person and virtual services available in French and English
We work with children and adults for a variety of communication, voice and swallowing disorders.
Our Process Is Simple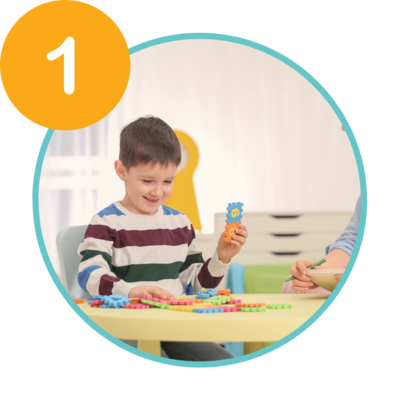 Schedule An Assessment
Schedule an appointment with one of our Speech-Language Pathologists based on your concerns. Subsequent assessment sessions may be necessary to ensure an accurate and complete assessment based on concerns.
Intervention
If speech therapy is recommended following the assessment, your clinician will set individualized and client-centered therapy goals to target during subsequent speech therapy sessions. The recommended length and frequency of speech therapy sessions will also be communicated with you.
Reports (Upon Request)
Formal assessment reports and progress reports are not mandatory and can be requested upon request at our hourly fee.
Services For Children
We assess communication skills including: social communication, speech sound production, receptive and expressive language fluency and literacy skills. Assessments may include a case history, the use of standardized tests, developmental checklists, qualitatie measures, observation, parent reports and direct interaction during play.
Therapy sessions are individualized to your child's communication goals using a play-based approach. We include your child's interests during session.
Learn More
Services For Adults
Speech therapy isn't just for children. An adult's voice and communication skills are just as important. We help adults with their communication skills following a stroke, brain tumor, traumatic brain injury or degenerative diseases such as Parkinson's disease, multiple sclerosis and ALS (ex. aphasia, apraxia, dysarthria). We also help our adult clientele with fluency, voice and swallowing disorders.
Learn More
Unsure If Speech Therapy Is Right For You Or Your Child?
Complete This Self-Evaluation Communication Checklist
These self-evaluation checklists are intended to help you identify a potential speech or language problem. If a problem is suspected, contact a Speech-Language Pathologist.
Communication Checklist